Ever feel like you need a vacation from cancer, dementia, ALS, heart disease or whatever health trial you're facing?
You probably do—at least a mental one and maybe a physical one as well.
Believe it or not the chemo room at Dr. Marc Hirsh's office, where I worked as a patient advocate for nearly 20 years, became a mini-vacation from cancer for patients when we threw elaborate parties for two days near Halloween. 
One year it was a Sesame Street theme and I obliged as Miss Piggy (For the record, I "porked up" with eight pairs of rolled up socks under my skirt and down my blouse!)
Another year we dressed  up as  the Wizard of Oz with the good and bad witches giving chemo. I covered my whole yellow-clad body with a long piece of yellow shelf paper outlined in brick shapes.  
"Follow the yellow brick road!" I announced in my best Munchkin voice as I led patients back to the chemo room.
You've probably heard of the non-profit organization Make-a-Wish which grants wishes for children facing a life-threatening illness—often a trip to Disney World or a chance to meet a famous athlete or movie star.  But did you know there are groups which offer free wishes for adults with cancer and other life-threatening illnesses?
When I worked as an advocate I helped several people get free dream wishes. A young mom went to Disney with her husband and 4-year-old. Another family got a free week's vacation at a beautiful Delaware beach home and a mother of four, who had just finished treatment got a much-needed holiday in Myrtle Beach.
If you Google "adult cancer patient wishes" a slew of them come up. The rules are different for each wish—some are only available to certain ages or specific kinds of cancer, while others include any life-threatening illness. Some are based on financial need—like if you can't afford a vacation yourself.
There are dream wishes for everything from fly-fishing excursions to free house cleaning. Normally you can only have one wish granted, so choose wisely before applying. Ask a nurse/patient navigator or a hospital social worker to help you with the paperwork because usually you can't nominate yourself. If you don't have the energy to apply, but need a dream vacation, ask a trusted friend or family member to take the lead and make it happen. I'm sure someone would be thrilled to have a specific way to lighten your load.
My friend Barb Titanish and her wonderful organization H.O.P.E., which ministers to hundreds of cancer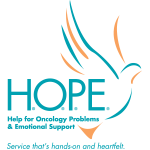 patients and their families is actually in the process of creating a retreat in southcentral Pennsylvania where folks can have a vacation from cancer. Plans call for the 49-acre donated site to have a fully staffed main house with four to six family suites, catered dining facilities, a fishing pond, greenhouse, hair salon, serenity garden, and playground including a handicapped accessible treehouse. Folks can come for the day or the week.
"Whether you are just diagnosed or starting a new treatment or at the end of life, you need to give yourself a break," says Barb.  (You can follow the project's progress at www.hopeforcancerfamilies.org)
You also can create a mini-vacation from your illness right in your own home or town. Declare every first Friday of the month to be "Cancer-Free Friday" where you only watch funny movies and no one is allowed to mention the "C" word. Or ask a friend to plan an outing for the day—a scenic ride and a picnic, a mani-pedi and a tea room, or an afternoon hitting golf balls and eating BBQ. Ask yourself what would help your mind/your body/your spirit to take a vacation from illness. Pray about it and ask God how you or someone you know can make it happen. People cannot read your mind so let those who have asked to help you know what you really need.
You deserve a break today…and I'm not thinking McDonald's.
I am sick at heart.
How long, O Lord, until you restore me? Psalm 6:3
When they walk through the Valley of Weeping, it will become a place of refreshing springs. The autumn rains will clothe it with blessings. Psalm 84:6
Adapted from Peace in the Face of Cancer, copyright 2017 by Lynn Eib
+++++++++++++++++++++++++++++++++
(If the music video below doesn't automatically load, click on https://www.youtube.com/watch?v=p9zEgRsorZ4 )